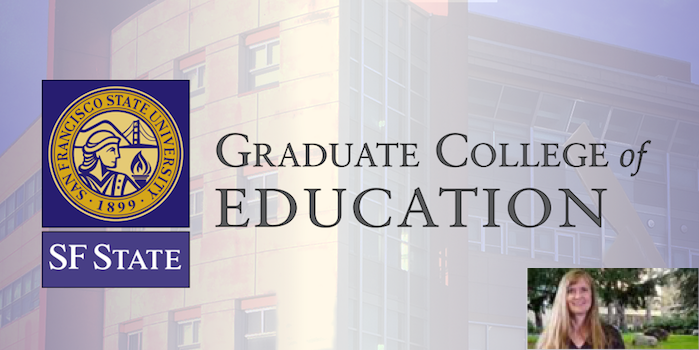 Ph.D. Special Education — UC Berkeley and SFSU
MA. Educational Technology — San Diego State University
BA. Liberal Studies — San Diego State University
AA. San Diego Mesa/Tacoma Community College
Pamela LePage is Professor Emerita of Special Education at San Francisco State University. She served as Mild to Moderate Co-Coordinator and the Director of the Combined Credential Program. Before coming to San Francisco State, Dr. LePage worked at Stanford University as the Director for the Committee on Teacher Education, and before working at Stanford, Dr. LePage taught at George Mason University where she helped to develop an innovative, interdisciplinary master's program for practicing teachers called Initiatives in Educational Transformation (IET).  Before working in higher education Dr. LePage was a special education teacher for 11 years.
---
Research Interests:
Dr. LePage has three main research interests including, 1) the policy and practice of teacher education, 2) the social and emotional development of older children with high-level autism, 3) the resiliency of girls and woman from disadvantaged backgrounds. Her interest in teacher education centers on the moral and psycho-social development of teachers (such as attitudes toward inclusion). But she has also been involved in research on teachers' work in content areas such as mathematics.  In autism she is interested in identity development for children, including how families deal with disclosure issues and how children experience their diagnosis. She is also interested in how they are integrated into general education and how they make real connections with friends. Finally, she is interested in how women and girls from disadvantaged backgrounds succeed despite barriers.
---
Grants:
National Science Foundation (SRI) Research Grant: Dynabook development and evaluation: Web-based digital tool for teaching middle school teachers math and math pedagogy (2009-2012) (with Susan Courey, $212,000.00)
Program Improvement grant for the Mild to Moderate Program: Focusing on Response to Intervention. Special Education 325T (2007-2012) US Department of Education, (with Susan Courey, $500,000.00)
Personnel Preparation Grant: Dual Program Development between Elementary and Mild to Moderate Special Education (2005-2009) US Department of Education (with Ali Borjian, $800,000.00)
Personnel Preparation Grant: Preparing Highly Qualified Educators to Meet the Unique Needs of Learners on the Autism Spectrum in Diverse Settings (2006-2011) US Department of Education, (with P. Wolfberg, $800,000.00)
---
Community Projects:
Pamela LePage worked with Sue Courey and other staff, students, and faculty from SFSU, as well as other parents and professionals, to develop a new community-based center that serves children with autism and their friends and families. The program, now called Gatepath Social Connection, brought children with autism and their typically developing peers together to work and play together in social groups/classes (video, theater, and art) where they socialize, have fun, and learn new skills. The goal is to promote inclusion, not only by helping teach children on the spectrum how to interact with others, but also to teach children without disabilities to appreciate and accept difference.
---
Publications: Books (see reviews)
LePage, P. & Courey, S. (2013). Teaching Children with High-Level Autism: Evidence from Families. Routledge NY.
Darling-Hammond, & L., Bransford, J., with LePage, P., Hammerness, K., & Duffy, H. (Eds.) (2005). Preparing Teachers for A Changing World: What teachers should learn and be able to do. San Francisco, CA: Jossey-Bass Publishers. Winner 2006 Edward C. Pomeroy Award for Outstanding Contributions to Teacher Education.
LePage, P. & Sockett, H. (2002). Educational Controversies: Towards a discourse of reconciliation. London: Routledge. Review available from Pedagogy, Culture, and Society, 11(3) (2003).
Sockett, H. Demulder, B., LePage, L. & Wood. D. (Eds.) Transforming Teacher Education: Lessons in Professional Development. Westport CT: Bergin and Garvey. Review from: The Teaching Education Journal, 14(2). August 2003
LePage, P. (1997). From Disadvantaged Girls to Successful Women: Education and Women's Resiliency. Westport CT: Praeger Press. Won the AERA Women Educators Research award, 1996. Reviews available from Lena Ampadu (National Women Studies Association Journal 11(2); and Laurel Parrot (AERA-Educational Review EDREV).
---
Publications: Selected Articles and Chapters  (See full resume for more)
Courey, S.J., Tappe, P., Siker, J., & LePage, P. (2013). Improved Lesson Planning with Universal Design for Learning (UDL). Journal of Teacher Education and Special Education. 36(1) 7-27.
Courey, S. & LePage, P. (2012). Culturally Responsive Pedagogy and Human Rights: Identifying Global Values in the Classroom. In A. Pitman & S. Majhanovich, Human Rights and Education VII, Sense Publishers, Rotterdam, Netherlands.
LePage, P. (2012). Teaching Filmmaking to Children with Autism.  Autism, Bay Area Magazine.  San Francisco, CA
LePage, P., & Courey, S. (2011). Filmmaking: A Video-based Intervention for Developing Social Skills in Children with Autism. Interdisciplinary Journal of Teaching and Learning, 1(2). 89-103.
LePage, P. Akar, H., Temli, Y., Sen, D., Hasser, N., & Ivens, I., (2011). Comparing teachers' views on morality and moral education in Turkey and the United States. International Journal of Teaching and Teacher Education. 27, 366-375.
LePage, P. (2009) His Own Best Advocate: A 10 year-old Boy Talks to his 4th Grade Class about Autism. Autism-Asperger's Digest (January).
Sockett, H., & LePage, P. (2008). Can the Aims of Education be Reconciled? Implications for Teaching and Learning. International Journal of Educational Practice and Theory, 29 (2).
LePage, P., Nielsen, S. & Fearn, E. (2008). Charting the Dispositional Knowledge of Teachers in Special Education.Teacher Education and Special Education, 31. 77-92.
LePage, P. (1997). Exploring Patterns of Achievement and Intellectual Development Among Academically Successful Women from Disadvantaged Backgrounds. The Journal of College Student Development, 38(5). 468-478.
LePage, P. (1997). Struggling with a Nontraditional Past: Academically Successful Women from Disadvantaged Backgrounds Discuss their Relationship with Disadvantage. The Psychology of Women Quarterly, 21. 365-385.